Land of Assyrtiko & Fava Pantremeni
On A Windswept Island where it scarely rains.
Scant rainfall, unyielding terrain, and barely a tree in sight, tightly packed soil became dust at the slightest touch. And so the islanders adapted; they chose plants that could survive hot arid conditions. Hillsides were terraced and bolstered by black volcanic rock, vines trained in "kouloures" or baskets.
Santorini Fava
Awarded with Protected Designation of Origin (PDO)
History shows that the variety of yellow split pea exclusive to Santorini, and known to the locals as "fava", has been cultivated on the island for more than 3,500 years, even before the volcanic eruption. Prehistoric traces of grain storage are found at Akrotiri's excavations.
Every Santorinian will tell you the perfect pairing to fava is some version of onion. It's a courtship; when chopped onion is sprinkled on top after cooking, the fava is "single" - boiled together and it becomes "spoken for." If topped with fried onion, the fava is "engaged", and when mixed in a pan with caramelized onions, it is finally "married."
This velvety plate is finished with a generous squeeze of lemon juice and a dash of extra virgin olive oil. Some like to garnish with capers; others with finely chopped coriander or parsley. Fava is served in mezes or to compliment a main dish.
Santorini Wines
Awarded with Protected Designation of Origin (PDO)
Santorini has five predominant grape varieties: the white Assyrtiko, Athiri and Aidani, and the red Mandilaria and Mavrotragano. The island is free from phylloxera (pests which attack grapevines) and has one designated appelation, PDO Santorini.
Vines are trained in a ground-level "kouloura" or basket to protect the grapes from gale-force winds and preserve what little humidity there is. Some are estimated between 200 and 400 years old.
Vinsanto, Santorini's dessert wine, comes from sundried grapes, mainly Assyrtiko (at least 51% by law) and Aidani. It is not to be confused with Tuscany's Vin Santo, which uses different varieties and methods.
Cherry Tomato
Awarded with Protected Designation of Origin (PDO)
Like the islanders, Santorini's unique variety of cherry tomato adapted to its desert-like environment. Today, just 60 hectares (148 acres) of this much sought-after tomatini are cultivated across the island.
Other Santorini natives
Wild capers "Kapari" sprout like unruly children on every stone wall and craggy cliff. Laboriously handpicked, preserved in salt and vinegar, they garnish dips and salads. The white eggplant is juicy and sweet with few seeds. This unusual aubergine is frequently oven-baked with tomatoes. Chlorotyri is a soft homemade cheese from goat's milk. Although not produced commercially, it is found in a few restaurants. Santorini grows its own watermelon; small, dark in colour with lots of pips, it has an excellent taste. The "Katsouni" is the island's cucumber. Larger than a common cucumber, it has a thick skin and is a member of the melon family.
Play Me
Spyros Pediaditakis prepares Greek Easter tsoureki and babka. A mesmerizing ASMR cooking and recipe video that delights the senses. [English Subtitles]
(ASMR: autonomous sensory meridian response)
Organic Santorini PDO - Where can I buy?
Traditional Santorinian food delicacies are expensive due to limited production and labour intensive harvesting. The golden fava split pea, for example, has to mature in barrels for a year and is sometimes collected by hand. When purchasing at local shops, check for the Santorini label. The gift shop at Santo Wines offers a selection from the island's cultivators-members of Santorini Cooperatives (founded by Santo Wines in 1947.) Most wineries have E-Shops for online purchasing.
The Wineries
Prebooking for wine tasting and winery tours is required. Some wineries offer packages with wine and food pairing, local delicacies and lunch opportunities. Our hotel reception teams are happy to arrange your tour.
Venetsanos Winery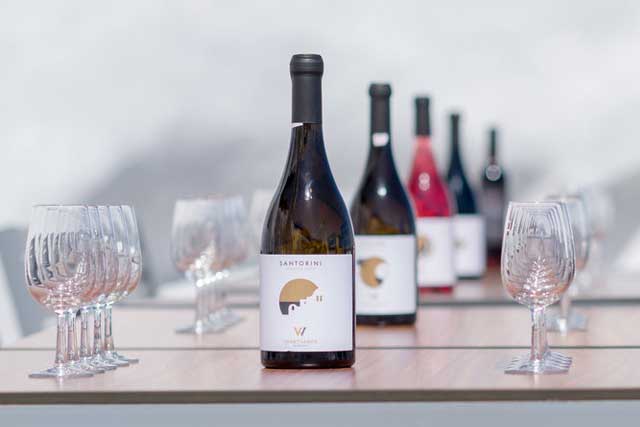 Megalochori
Opening Hours
11.00 – 21.00
Light lunches & food pairing
Tel +30 22860 21100
Gavalas Winery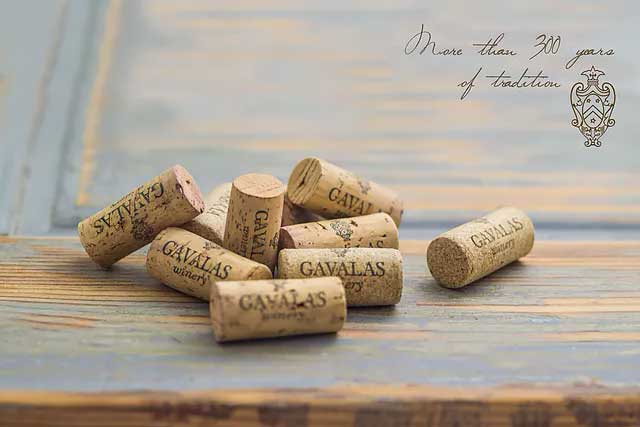 Megalochori
Opening Hours
11.00 - 19.00 (Apr - Oct)
11.00 - 16.00 (Mar- Nov)
Tel +30 22860 82552
Santo Wines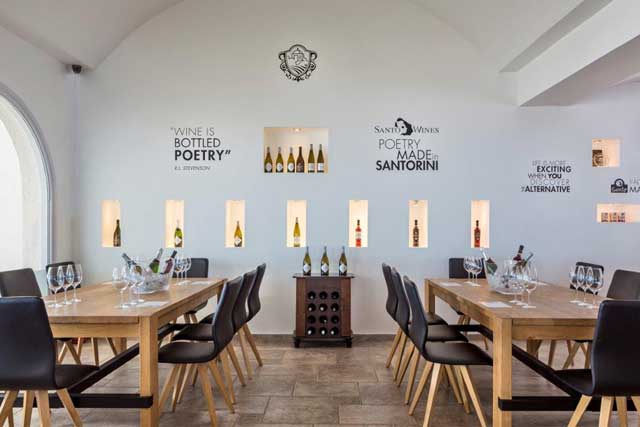 Pyrgos
Opening Hours
11.00 - 21.00
Cafe restaurant available
Tel +30 22860 22596
Art Space Winery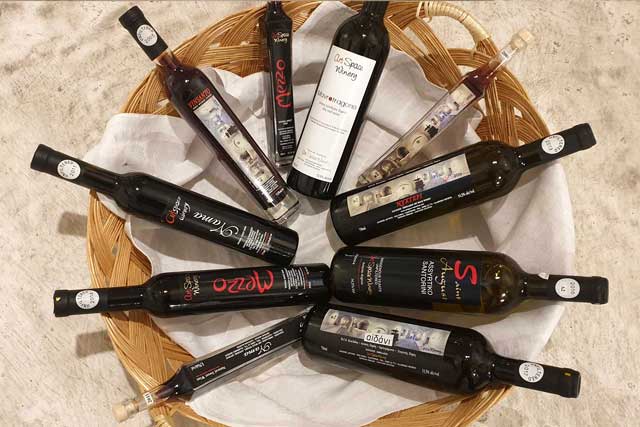 Exo Gonia
Opening Hours
11.00 to sunset
Winery, Art Gallery, Museum
Tel +30 22860 32774
Estate Argyros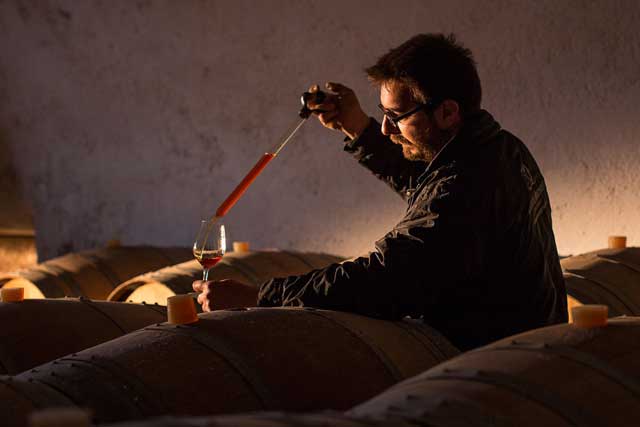 Episkopi Gonias
Opening Hours
09.00 - 20.00 (Sunday open 11.00)
Cold platters available
Tel +30 22860 31489
Boutari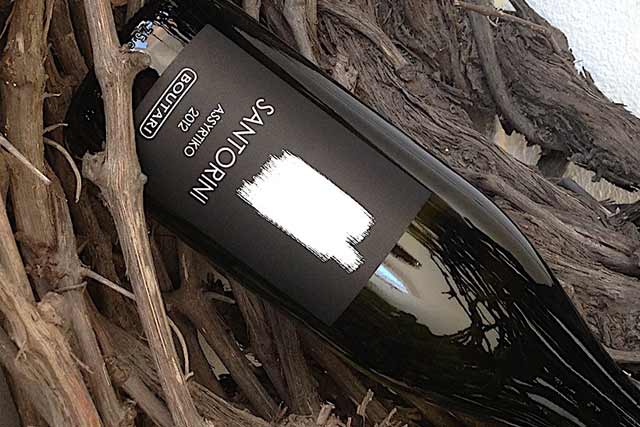 Megalochori
Opening Hours
10.00 - 18.00 (Sunday closed)
Tel +30 22860 81011
Vassaltis Vineyards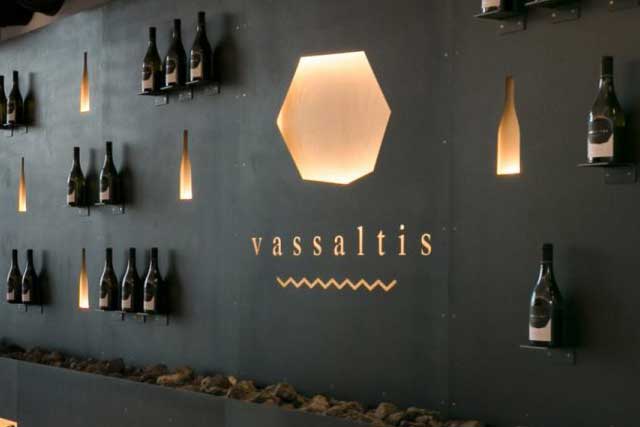 Vourvoulos
Opening Hours
11.00 - 20.00
on-site restaurant
Tel +30 22860 22211
Volcanic Slopes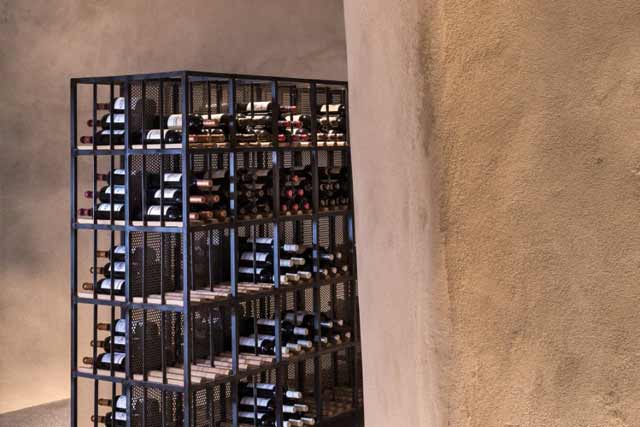 Episkopi Gonias
Opening Hours
11.00 - 19.00 (Sunday closed)
Cold platters available
Tel +30 22860 31368
Canava Roussos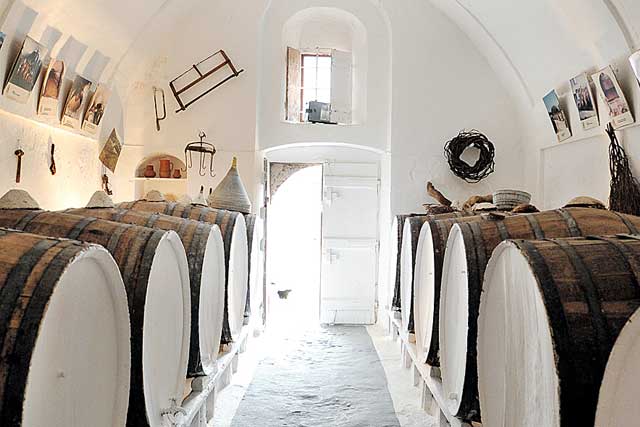 Episkopi Gonias
Opening Hours
12.00 - 17.00 (Sunday closed)
Tel +30 22860 31349
Hatzidakis Winery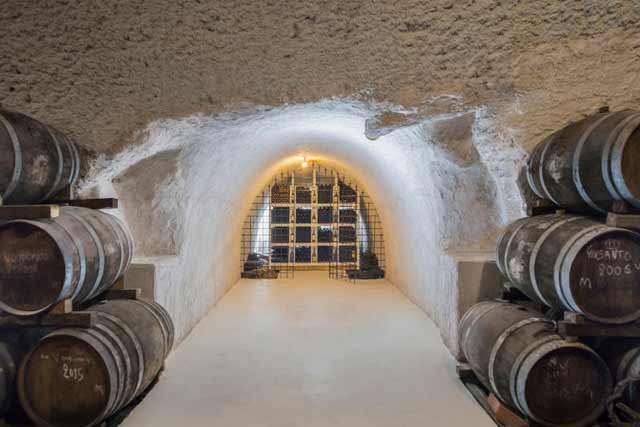 Pyrgos
Opening Hours
11.00 - 17.00 (Sunday closed)
Tel +30 698 110 7180
Domaine Sigalas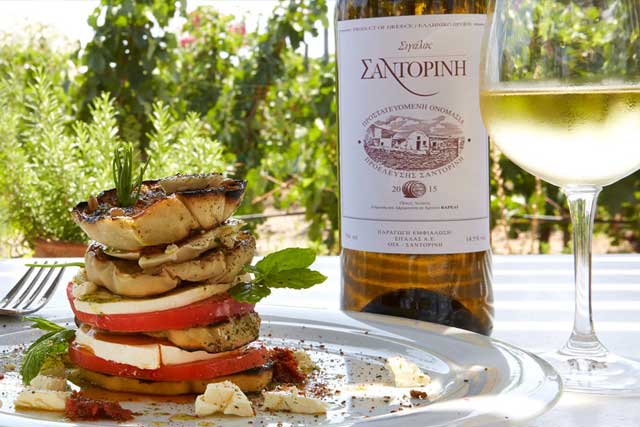 Oia-Baxes
Opening Hours
11.00 - 20.00 (Apr – Oct)
11.00 - 19.00 (Mar & Nov)
Lunches & food pairing
Tel +30 698 110 7180
Karamolegos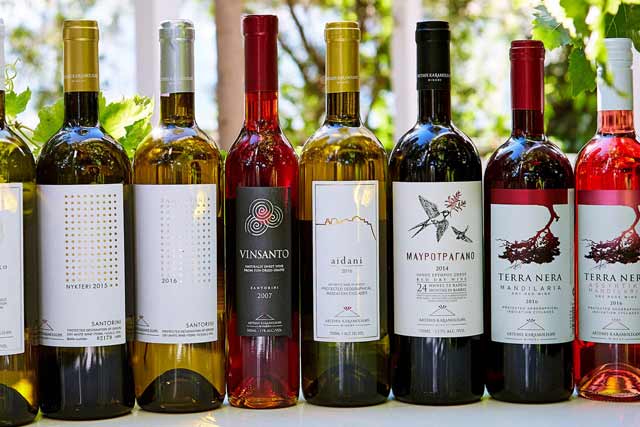 Exo Gonia
Opening Hours
11.00 - 20.00 / wine tasting
12.00 - 18.00 / winery tour
Tel +30 22860 33395
Gaia Wines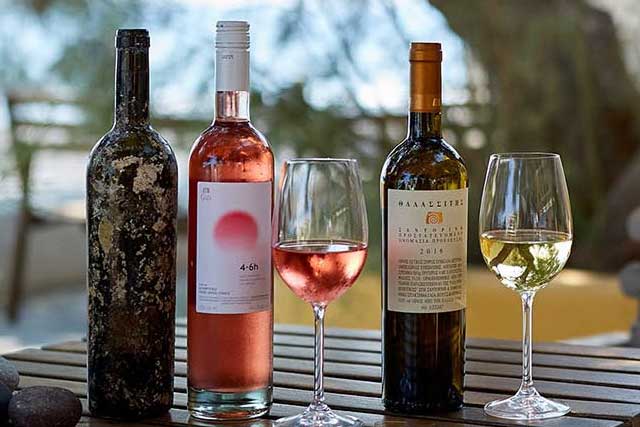 Exo Gonia
Opening Hours
11.00 - 19.00 (Jun 01 – Oct 20)
Tel +30 22860 34186
Anhydrous Winery
Kontochori
Opening Hours
11.00 - 20.00 (Sunday closed)
Tel +30 22860 23140
Wine Museum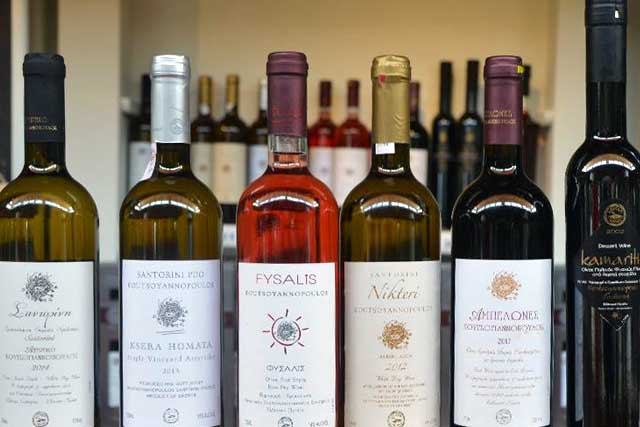 Exo Gonia
Opening Hours
11.00 to sunset
Winery, Museum
Tel +30 22860 32774